History of Transvaal



The Transvaal rugby union was founded in 1889, which makes it the 4th oldest rugby union in South Africa.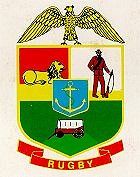 The first rugby match by Transvaal was played on Saturday, 31 August 1889 against Griquas in Kimberley. Transvaal played it's home fixtures at the Wanderers until 1928, when Ellis Park was used for the first time.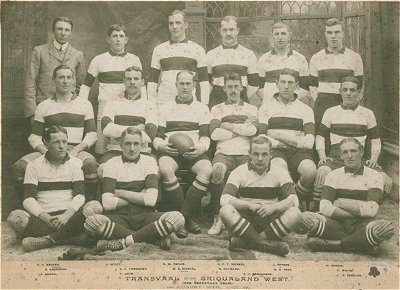 This is a photo of the Transvaal side that played Griquas in 1907.


The area where Ellis Park is situated was identified in 1927, and the TRFU negotiated with Mr JD Ellis (after whom Ellis Park was named) from the Johannesburg City Council, who made 13 acres of land available, and building commenced. The stadium was built in 8 months, and was used for the first time in 1928.




Ellis Park was upgraded to a modern stadium during 1980 and 1981, when matches were played at the Wanderers again, and currently has a capacity of 62500.

The name of the union was changed from Transvaal to the Lions in 1993 and to the Golden Lions in 1998.

The very last team that played as Transvaal was the team that played against an Italian XV on a tour match on 25 November 1992.

Recent events:

On 17 May 2006 Eugene Eloff was appointed as coach of the Lions, replacing Frans Ludeke, who moved to the Bulls.

On 3 September 2007 Manie Reyneke replaced Andy Turner as Lions CEO. Turner resigned on 15 January 2007.

On 4 February 2008 Auto & General announced a three year sponsorship deal worth R30m with the Lions.

On 3 July 2008 Coca-Cola came on board as the naming rights sponsor for Ellis Park, a 4.5 year deal rumoured to be worth R45m.

On 25 March 2009 forwards coach Leon Boshoff was accused of making racial remarks but found not guilty in a hearing. He still ended up getting relieved from his contract with the Lions.

On May 27 2009 Eugene Eloff was asked to step down as coach and Hans Coetzee was appointed as caretaker coach in his place.

On June 10 2009 the President Jannie Ferreira and Vice-President Manie Reyneke stepped down after facing a pressure group consisting of former players and all 21 clubs. Reyneke did stay on as CEO of the Lions.

At the end of October 2009 the Lions elected a new President, Kevin de Klerk, while Dick Muir was appointed as coach on a three year contract.

On April 26 2010 I heard through the grapevine that Lions CEO Manie Reyneke decided to revoke the media accrediation of LionsWorld, this supporter website.

On May 17 2010 it was announced that Dick Muir was axed as Lions coach and that John Mitchell would replace him.

On 20 January 2011 MTN was named as new sponsor for the Lions for the 2011 to 2013 seasons.

On 29 October 2011 the Lions won the Currie cup for the first time since 1999 when they beat the Sharks 42-16 at Ellis Park. The CEO, Manie Reyneke also left the union at the end of October 2011 to join Stadium Management SA, the company that manages the FNB stadium.

On 10 February 2012 Redefine Properties came on board as a sponsor for the 2012 to 2014 seasons.

During June 2012 coach John Mitchell was suspended after player complaints, and he was temporarily replaced by Johan Ackermann. In November 2012 Mitchell's job was changed to a consultancy role and Johan Ackermann named new head coach.

On 16 August 2012 the general council of Saru voted the Lions out of Super Rugby with a majority of 23-6. It later transpired that the only two unions that supported the Lions were the Bulls and the Sharks.

On 5 December 2012 the Lions announced that Manie Booysen will be the new CEO starting in January 2013.

On 26 July and 3 August 2013 the Lions played the Kings in 2 promotion relegation matches, winning 26-19 and losing 18-23, but with the +2 points difference did enough to win their place in Super Rugby back in 2014.

On 1 June 2014 Rudolf Straeuli took over as the new Lions CEO

On 11 December 2014 Emirates Airlines was announced as the new title sponsor for 5 years, from 2015 to 2019, a deal believed to be worth just over R150m, and Ellis Park was also renamed to Emirates Airline Park.

In the 2015 Currie Cup season the Lions was unbeaten and also won the final, the 1st time since 1996 that this was done.

In the 2016 Super Rugby season the Lions won 11 games in the regular season and then the Quarter-Final and Semi-Final for 13 wins in the season, a new record for the Franchise, and also played in their 1st ever Super Rugby Final but lost 3-20 to the Hurricanes in Wellington, New Zealand.

In the 2017 Super Rugby season the Lions won 14 games in the regular season and then the Quarter-Final and Semi-Final for 16 wins in the season, a new record for the Franchise, and then played in their 2nd ever Super Rugby Final but lost 17-25 to the Crusaders at Ellis Park.

Head coach Johan Ackermann resigned his position at the end of the 2017 Super Rugby season to join Gloucester Rugby in England. His deputy, Swys de Bruin, was appointed as the new Head coach of the Lions for Currie Cup and Super Rugby.


Honours:
Super 10: 1993

Currie Cup (11): 1922, 1939, 1950, 1952, 1971 (shared), 1972, 1993, 1994, 1999, 2011, 2015.

Lion Cup (5): 1986, 1987, 1992, 1993, 1994

Vodacom Cup (5): 1999, 2002, 2003, 2004, 2013